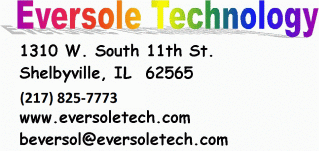 Custom-Built Computers--Build a new a computer based on your performance/cost needs--Call or email for an estimate.
Upgrades--Upgrade your current computer with a faster processor and/or more memory--Starting at $100.00--Call or email for an estimate.
Local Service Calls--$25 for 1st hour; $20 for each additional hour.
Repairs--Call (217) 774-2301 for estimate.
Removal of spyware and virus infections--Is your computer running slowly with strange messages and/or popups? Call and drop off your computer (no monitor, cords, keyboard, or mouse needed).
Technical Support--Call (217) 774-2301